Queen's stunt double Gary Connery up for adventurer award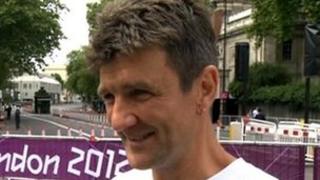 A man who parachuted from a helicopter dressed as the Queen at the opening ceremony for the Olympics has been nominated for an adventurer award.
Gary Connery, from Henley-on-Thames, is among 12 nominees for the Epic TV Adventurer of The Year Award.
Austrian Felix Baumgartner, who set a new skydiving world record in October, is also nominated.
Mr Connery also jumped out of a helicopter into a pile of cardboard boxes in May.
The 43-year-old described his part in the opening ceremony in July, where he posed as the Queen alongside James Bond actor Daniel Craig, as "an amazing experience".
He said: "It brings a huge smile to my face when I look back on this year.
"What's most humbling is people telling me how much they enjoyed following my exploits and their reaction really makes it for me.
"There's a great collection of names nominated for the award, so to be recognised in the same field as them is a real honour."