Marsh Baldon villagers set to buy Seven Stars pub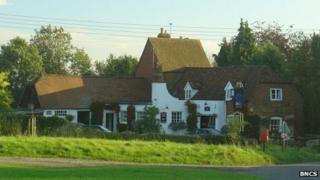 A group of about 70 villagers has raised thousands of pounds to buy its local pub in Oxfordshire.
The Baldons and Nuneham Community Society Limited (BNCS), set up to secure the Seven Stars pub in Marsh Baldon, has raised £110,000.
It is currently in the process of buying the £275,000 pub, which closed at the end of October.
The remaining £165,000 will be covered by a loan offered to the group by the previous owner.
Community 'hub'
Phil Collins, from BNCS, said the pub has "historical importance" because it is mentioned in the Domesday book.
"This pub is a part of history and is the hub, not only of Marsh Baldon, but the villages and communities around it," he said.
The group aims to lease the pub, which was refurbished in 2010, to a manager and is giving applicants until the end of January to apply.