Oxford community centres 'maintenance backlog' at £2m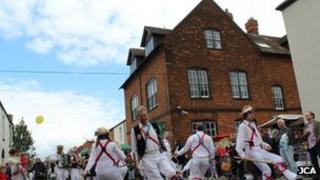 Almost £2m of repair work is due on community centres in Oxford.
An Oxford City Council survey judged Jericho, Donnington, and East Oxford Games Hall as amongst those in the poorest conditions in the city.
Steven Curran, board member for community development, said the cost was to be expected following a detailed inspection of 19 centres.
Paul Hornby, from Jericho Community Association, said repairs were an "emergency matter".
He added: "They can't wait. There is a danger of the windows falling out on people walking in the streets.
"Tenants are complaining about the condition of the building and it looks pretty scruffy."
'Sell by date'
The condition of the Victorian building is classified at a "D", meaning "bad", or "life expired and/or serious risk of imminent failure".
It was "past its sell by date", Mr Hornby admitted.
Donnington and East Oxford Games Hall are both judged to be a "C", meaning "poor".
The city council commissioned a complete review of the condition of non-housing properties over 2011 and 2012.
Mr Curran said: "There's a backlog which shouldn't be there, however it's there and needs to be dealt with.
"None of the repairs are emergencies. The object is to build as many sustainable community centres as we can and repair those we can't replace."
He pointed out St Barnabas Church, and not the council, was the landlord of the Jericho Community Centre, but negotiations would begin to "hammer out who is responsible for what".
The maintenance update to the communities and partnership scrutiny committee calculates the total backlog at £1,813,199.
The committee, which meets on 30 January, is recommended to "note" the report.
Mr Curran said: "This budget will be looked at in relation to city council's budget, and as long as nothing dreadful happens all the work will get done."