Heythrop Hunt suspended over equine herpes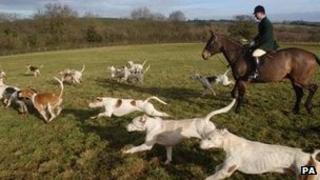 An Oxfordshire hunt has been suspended after an outbreak of equine herpes.
The Chipping Norton-based Heythrop Hunt has halted rides after four horses at one yard tested positive for the potentially fatal virus.
Vet Tom Campbell said he was "fairly confident" the outbreak was under control. The hunt said the suspension was to "avoid further contamination".
Horse owners have been urged to contact a vet if they spot the symptoms of coughing and nasal discharge.
Mr Campbell said four horses at one yard were being treated after beginning to show symptoms on 29 January. Two are showing signs of improvement.
He added other yards around the Oxfordshire-Gloucestershire border have been tested but interim results have proved negative.
The virus can be transmitted through the air from respiratory infection or by close contact between horses. It can lead to neurological problems which can result in paralysis.
A statement from the Heythrop Hunt said: "Out of respect for all horse owners and those connected with the equestrian industry, we feel we need to act strongly in supporting the vets in our area in preventing the spread of equine herpes."