Oxford University Port Meadow development reviewed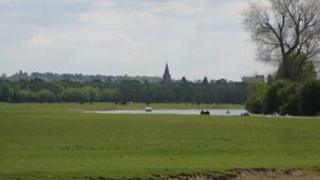 A U-turn on a decision allowing Oxford University to build student housing on a field could cost the city council a "seven-figure sum", a report has found.
Development is under way on the project in Port Meadow after the council granted planning permission previously.
It is reviewing the case on Thursday, but says only "exceptional circumstances" would cause a rethink.
Campaigners believe the project is damaging views of a scheduled monument and a place of outstanding beauty.
The Castle Mill development, on Roger Dudman Way close to the railway station, could be ready by September.
Campaigner Celine Wills, from Binsey, said the site was an area of common land that should be open to everybody.
'Evolving skyline'
The building did not blend into the landscape, she added.
Alison Cobb, who has the freedom of the city, said there were grounds for an appeal.
"All matters to do with Port Meadow must be notified to and agreed by the freemen and the Wolvercote commoners, and we freemen were not told about it at all," she said.
The report from the head of city development to the West Area Planning Committee said: "If it were expedient to do so, revocation of the planning permission could be considered, though it is likely the secretary of state would be very reluctant to revoke a valid planning permission other than in the most exceptional circumstances.
"If it were, then substantial compensation would follow amounting to perhaps a seven-figure sum."
A university spokesman said: "The skyline of our city, in keeping with the history of Oxford itself, is a constantly evolving blend of the old and the new, the natural and the built.
"Castle Mill will provide accommodation for hundreds of students, thereby reducing pressure on Oxford's constricted rental housing market.
"It will do so by reusing a former railway site, rather than encroaching on undeveloped land."