Bus man Arthur Pearson, 88, retires after 65 years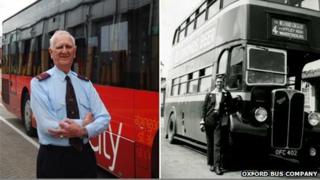 An 88-year old man has retired after 65 years of service with an Oxfordshire bus company.
Arthur Pearson joined Oxford Bus Company in 1948 and went on to become the firm's longest serving employee.
He worked as a driver, an inspector and an instructor. He did retire at the age of 65 in 1989, but it only lasted for a few days before he returned.
Mr Pearson said: "It's been really marvellous and the people I have worked with have been such a friendly unit."
'Great charm'
Mr Pearson, who has worked in the company's customer services team for the past 13 years, said he planned to "be lazy" now that he had finally retired due to ill heath.
He said his favourite bus to drive had been a double-decker Bristol VR.
"It was every driver's dream - a really magnificent vehicle," he said.
He added one of his "fondest memories" had been meeting Gordon Brown when he was prime minister, in the build-up to the 2010 general election.
Philip Kirk, managing director of the bus firm, said Mr Pearson had "great charm and courtesy".
"Now that Arthur has retired, our longest serving colleagues have clocked up just 45 years," he added.
A retirement party was held for Mr Pearson at the bus company's depot on Friday which was attended by Oxford East MP Andrew Smith.