Eastleigh by-election: UKIP announces candidate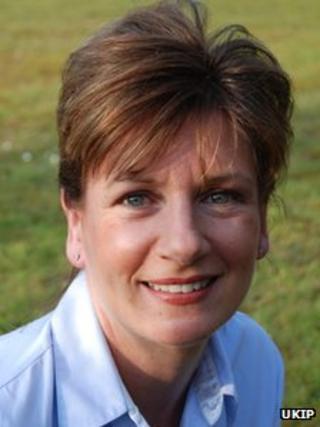 UKIP has announced its candidate for the Eastleigh by-election.
Councillor Diane James, currently a member of Waverley Borough Council in Surrey, will stand for the party.
Mrs James, who joined UKIP in 2010, said she was "honoured" and party leader Nigel Farage said she would "stand up for ordinary communities".
The by-election was called after the resignation of Lib Dem MP Chris Huhne, who stepped down after pleading guilty to perverting the course of justice.
Mrs James said: "I plan to fight hard and show the people of the constituency that they can vote for someone with integrity and commitment; a real opposition to the failed policies of the coalition and the virtually invisible Labour Party."
Mr Farage said: "Diane has a successful record as a healthcare and political campaigner and she wants to stand up for ordinary communities who are being so badly affected by the coalition government in this country."
Nick Clegg visit
She will stand against Conservative Maria Hutchings, Liberal Democrat Mike Thornton. Jim Duggan of the Peace Party and Dr Iain Maclennan of the National Health Action Party.
The Labour candidate has not yet been announced.
Lib Dem leader Nick Clegg visited Eastleigh with Mr Thornton on Monday and said he was "confident" his party would win the hotly contested by-election.
The deputy prime minister was the first of the big three party leaders to visit the Hampshire constituency.
He said: "We need to be quite clear where our differences lie (with the Conservatives), it is Liberal Democrats that have lowered council tax in Eastleigh, it is Liberal Democrats that are protecting the green spaces."
But he would not say it was his duty to say sorry for his former colleague Mr Huhne, who awaits sentence for perverting the course of justice.
Asked repeatedly, Mr Clegg said: "Chris Huhne needs to speak for himself.
"My duty is to make sure that the people of Eastleigh are not without an MP in Westminster for too long.
"Whatever anyone may think of Chris Huhne, everybody will tell you locally he was an extremely good local MP."
Mr Huhne stepped down on 4 February shortly after he admitted perverting the course of justice over claims his wife took speeding points for him.
The Lib Dems held the seat with a 3,864-vote majority in 2010.