Cropredy marina works delayed by heavy rain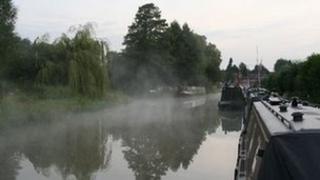 The opening of a new marina in Oxfordshire has been delayed due to severe wet weather.
Works at the 249-berth Cropredy marina on the Oxford Canal have been temporarily halted after heavy rain left the site waterlogged.
Customers have been told the marina is now set to open in July - three months later than planned.
Some people are to be offered berths at Crick Marina near Rubgy, Warwickshire, until the new site is complete.
Developer Tim Langer said: "Our contractors have done a brilliant job to get as far as they have and, despite awful conditions, have managed to keep work going on site until mid-January.
"The main basin is already fully excavated, and the canal entrances have been built.
"However, the ground is now so waterlogged that they have had to suspend operations for a few weeks.
"The project is fully funded, so as soon as the site dries out a bit they will be back on the job.
"The ground at the site is dense clay, which is ideal for a marina, but it means that the heavy rainfall has caused waterlogging, and it is very slow to dry out."