Oxford trust publishes alcohol-related foetus disorder guidelines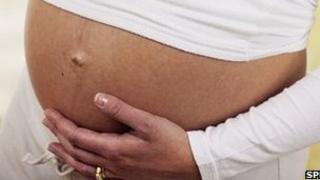 A charity has published recommendations for medical staff to tackle a foetal disorder caused by drinking alcohol during pregnancy.
The Foetal Alcohol Spectrum Disorders (FASD) Trust, based in Oxford, has called for alcohol-tests to be given to pregnant women by midwives.
A Royal College Of Midwives spokeswoman said it "would question any attempts to place the midwife in a policing role".
FASD conditions include permanent brain damage and behavioural difficulties.
Alcohol-testing
The FASD Trust published the report with the help of 70 medical specialists.
The report was led by Dr Raja Mukherjee, who said FASD was still "under-diagnosed" and "many of those affected grow up unaware of their condition".
As well as alcohol testing, the proposed guidelines also call for clearer information for mothers-to-be to raise awareness of FASD.
The report states that a range of medical professionals, including midwives, need to be further educated in recognising FASD symptoms and not misdiagnosing the condition.
Janet Fyle from the Royal College of Midwives said: "It is more appropriate that midwives engage with women in a non-judgmental way to discuss and explain the issues around alcohol and problem alcohol consumption."
Pregnant women with an alcohol-dependency are at a greater risk of their foetuses developing the disorder.
According to the FASD Trust, the effects of the condition can be physical - including particular facial characteristics - but also mental or behavioural, such as "anxiety, social communication difficulties, poor attention and even criminal behaviour".
A Department of Health spokesman said, since 2007, advice had been that women who are trying to conceive or are pregnant should avoid alcohol.