Oxford exploitation trial: Girl 'branded with hairpin'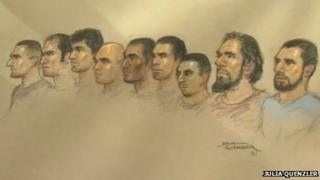 A woman has told the Old Bailey how she was branded with the initial of a man who raped her and turned her into a sex slave when she was 12 years old.
The witness, now 19, was giving evidence at the trial of nine men accused of grooming children and exploiting them for sex in Oxford.
She said Mohammed Karrar used a hair pin to brand the initial "M" on her buttock to show she "belonged to him".
The men deny 51 counts including rape and trafficking from 2004 to 2012.
The girl explained to the court how she was sexually abused by defendants Mohammed and Bassam Karrar, whom she knew were brothers, in a park and a hotel room.
Speaking via videolink, she cried as she told how Mohammed Karrar hit her with a baseball bat after she threatened him with a knife when he forced her into having sex.
"At the time, I thought he loved me and it was a mistake he made.
"I thought it was my own fault, that I threatened him with a knife," she said.
The girl, who cannot be named for legal reasons, said he would scrub her in the bath after she had sex with other men, making her bleed on two occasions.
He would call her a "dirty bitch" and said she needed to keep clean, the jury heard.
Speaking about the branding, the girl told the court: "After heating it up for a little while, he stuck it on my bum.
"It was M for Mo and he said I belonged to him. He was branding me so people knew I was his."
The witness is one of six alleged victims in the case and, like one of the others, she claimed she was forced to have an illegal abortion in a back-room in Reading.
The trial is expected to last until April. The defendants are all in custody.
The defendants are:
Kamar Jamil, 27, formerly of Aldrich Road, Oxford
Akhtar Dogar, 32, of Tawney Street, Oxford; and his brother Anjum Dogar, 30, of Tawney Street, Oxford
Assad Hussain, 32, of Ashurst Way, Oxford
Mohammed Karrar, 38, of Kames Close, Oxford; and his brother Bassam Karrar, 33, of Hundred Acres Close, Oxford
Mohammed Hussain, 24, of Horspath Road, Oxford
Zeeshan Ahmed, 27, of Palmer Road, Oxford
Bilal Ahmed, 26, of Suffolk Road, Maidenhead