Thames Water fined £10,000 over sewage pollution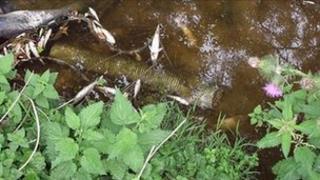 A sewage leak in a Oxfordshire stream has led to a fine of £10,000 for a water company.
A burst inlet pipe downstream of Thames Water's sewage treatment works caused sewage to overflow into Faringdon Stream and discharge into woodland.
The 48-hour leak killed more than 270 fish in August 2011. The firm pleaded guilty at Oxford Magistrates' Court on Friday to the discharge of sewage.
The Environment Agency said it was "distressing" for so many fish to die.
Thames Water spokesman Simon Evans said: "We deeply regret this incident. When problems like this occur we aim to sort them out as quickly as possible."
Thames Water was also ordered to pay prosecution costs of £4,488 and a victim surcharge of £15.