Old Pump House theatre revamped as parkour centre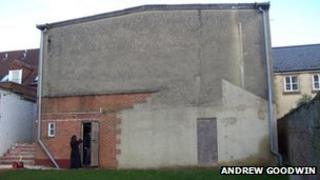 A disused theatre is to be transformed into a centre for parkour - also known as free running - in Oxfordshire.
Organisers of the Old Pump House Project in Faringdon have raised £19,000 to revamp the building which was last used as a theatre in 1994.
Young people, including pupils from Faringdon Community College, will use the space to climb, leap and vault in.
The new facility is expected to open in May.
'Community-based project'
The renovation work, which will start on 1 April, will include creating an edit suite where films of the young people performing parkour will be made.
Lou Smith, one of the project coordinators, described it as "a community-based project".
"Parkour is great because you don't need expensive equipment, so a disused building like this is perfect," she said.
The use of the theatre, which was built in 1976 and is run by Faringdon Town Council, has been offered for free to the project for three years.
The authority has a longer-term plan to turn it back into a theatre.
Lord Faringdon, who owns the building, has donated £2,000 towards the project.