Oxford Lord Mayor censured for 'sexy' comment made to schoolgirl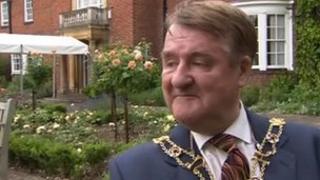 The Lord Mayor of Oxford has been censured for making a remark towards a 13-year-old girl using the word "sexy".
Alan Armitage was found to have breached the city council's code of conduct at a hearing on Wednesday.
Mr Armitage said he was "disappointed" with the result and denied making such a comment during a school awards night.
The council's standards committee said Mr Armitage would "continue to undertake the full range of his mayoral duties".
'Inappropriate comment'
The committee heard from a number of witnesses who attended the private hearing.
None of them could definitively say what the remark was, an Oxford City Council spokeswoman said.
But she added witnesses reported hearing a combination of words including: "Bending is very sexy isn't it?", "Ooh that's a bit sexy" and "It's sexy when you bend down like that".
A hearing report stated there was "sufficient agreement about the content of his comment to conclude that it was an inappropriate comment to a 13-year-old girl".
The committee found the Liberal Democrat Lord Mayor had breached two paragraphs in the council's code of conduct, relating to treating others with respect and bringing your authority into disrepute.
Speaking after the hearing Mr Armitage said: "I'm disappointed. I told the truth throughout the hearing and I'm not at all clear what the committee think I actually said which breached the code.
"I don't consider that I did say those things".
He added he would continue in his role as Lord Mayor.
Oxford City Council ruled previously Mr Armitage was not deemed a threat to child safety.