Banbury Horton hospital surgery move criticised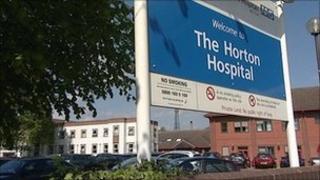 Campaigners claim they are being "kept in the dark" over reasons for the suspension of emergency abdominal operations at a hospital.
The surgery stopped at Banbury's Horton General on 18 January, with patients now having to travel to the John Radcliffe Hospital in Oxford.
Officials said the step was a result of "unexpected changes" to staffing.
But they refused to give further details about the shortages, citing staff confidentiality rules.
Now the Keep Horton General Campaign is calling for the trust to be more open.
'Immensely frustrating'
Charlotte Bird, acting campaign chairwoman, said: "Some people have had to find their own way to the John Radcliffe.
"Many don't have a car, they have had to do it on public transport when they are in pain.
"It's causing the patients extra expense and longer journey times.
"I have pleaded with the trust for openness and transparency.
"It's immensely frustrating. We are being kept in the dark".
Meanwhile a public consultation on plans for the future of Banbury's Horton General Hospital has been delayed.
The exercise, which will include plans to expand routine day surgery, will start in May instead of this month due to the local elections.
Proposals will include a recommendation for emergency abdominal surgery to be moved permanently to the John Radcliffe Hospital.
Health officials said the recommendation for the surgery to move permanently to the John Radcliffe is in-line with national guidance from the Royal College of Surgeons.
An average three patients a day who would have been assessed at the Horton have had to travel to Oxford instead since the surgery was suspended there.
The trust has given reassurances that paediatrics, obstetrics and the emergency department at the Horton have a "secure future" and vowed to involved the local community in its plans.
A trust spokeswoman said: "We are talking to local stakeholders including GPs, MPs, local councillors and the Community Partnership Network about a new timetable.
"We will continue to engage with the local community prior to starting an official consultation in May".