Army bases: Dalton Barracks, Abingdon, loses 400 jobs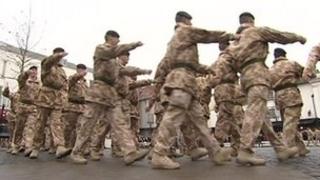 About 400 army jobs will be lost in Oxfordshire as troops returning from Germany are relocated.
About £20m is being spent to develop bases in the county but 12 Logistic Support Regiment at Dalton Barracks, Abingdon, is being disbanded.
Brig Neil Baverstock said the barracks could not deal with the number of soldiers based there.
New buildings and refurbishments are expected to provide specialist facilities for the incoming troops.
St David's Barracks in Bicester will be home to 1 Close Support Regiment and 241 Signal Squadron.
In addition 27 Theatre Logistic Regiment in Aldershot, Hampshire, and 3 Close Support Regiment Royal Logistic Corps in Abingdon will swap sites.
'Reducing pressure'
Brig Baverstock, the regional commander, added: "At the moment the infrastructure at Abingdon is creaking and groaning.
"There's an awful lot of soldiers there and the accommodation is not in the sort of state we would like it to be.
"What this will allow us to do is reduce the pressure on the infrastructure."
He added that Oxfordshire would continue to have a "strong military tradition".
On Tuesday the MoD announced that £226m will be spent on a specialist training school at RAF Brize Norton.
Returning forces from Germany will also be stationed at Salisbury Plain, Edinburgh and Leuchars, Catterick and Colchester.
Defence Secretary Philip Hammond said the return of troops from Germany marked the end of an era, and thanked the German government and people for their "material and moral" support.