Cowley Road Carnival given £90,000 funding boost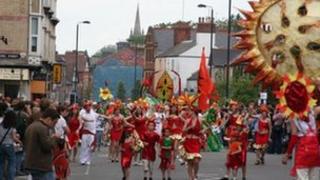 A street carnival in Oxford will receive a £90,000 grant so that it can continue.
Oxford City Council has entered into a three-year agreement with the event organisers of the Cowley Road Carnival.
The event was relocated to South Park in 2011 because of a lack of funds, and was cancelled in 2012 to avoid the Olympics and Jubilee.
In addition, The Story Museum will receive a £20,000 grant from the council for three years.
It will go towards Alice's Day, its annual celebration of Alice's Adventures in Wonderland.
Both events will take place on the weekend of 6 and 7 July.
'Feeling of togetherness'
Steve Curran, councillor for Northfield Brook in Blackbird Leys, said: "The city council believes the carnival is a real asset to Oxford.
"The Cowley Road Carnival will be on the Cowley Road, that's the most important thing, and that's where it should be.
"That brings people out of their houses into the street, all having a good time, and links in with the businesses on the road so they benefit as well.
"It gives a feeling of togetherness which is what a carnival is all about."
Organisers will still have to rely on fundraising. The carnival in 2011 cost about £122,000 and made about £8,000 in profits.
A legal agreement with the council states that organisers must work with children and young people and include an "element of education".
Fewer roads are expected to be closed on the parade path to save money.