RAF Benson team complete Comic Relief steam engine pull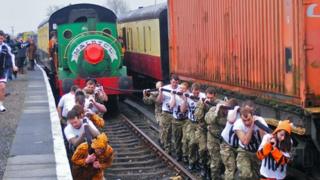 About 20 RAF personnel have pulled an "Ivor the Engine" steam train more than 50 metres in aid of Comic Relief.
Engineers and aircrew from RAF Benson's 230 Squadron managed the feat at Wallingford Railway Station on Saturday.
The team pulled Cholsey and Wallingford Railway's 22-tonne Peckett engine and a carriage, which brought the total weight to 60 tonnes.
They hope to raise more than £1,000 for the charity.
Sgt Andy Greenfield led the team in the challenge to get the 10ft 8in-high (3.25m) and 22ft-long (6.7m) engine moving.
He said: "It was great fun and the event was extremely well supported by the public.
"Around £800 was raised on the day itself.
"We didn't set ourselves a time or distance target, but just treated it as a bit of fun really and I'm glad to say we managed to get through it."
Cholsey and Wallingford Railway closed to passengers in 1959 and to freight in 1965.
It remained operational until 1981 to serve a malt house in Wallingford, after which it became a heritage line.