Oxfordshire Science Festival takes to the streets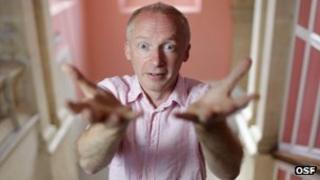 Scientists are bringing meteorites, magnets and molecules out of the laboratory and on to the streets of Oxfordshire for a two-week festival.
Oxfordshire Science Festival (OSF) in Bonn Square, Oxford, includes workshops and theatre performances, which organisers say "show people the real life applications of what happens in the labs".
Highlights include an exhibition of fossilised dinosaur footprints excavated from Ardley Quarry and a workshop about how stalagmites from caves, corals, shellfish and even earthworm faeces can be used to determine the temperature of the Earth years ago.
'Exciting times'
Patron of the festival Professor Marcus du Sautoy said science played a pivotal role in modern life.
He said: "The GPS that navigates us across the globe exploits Einstein's theory of relativity, Google is driven by the clever mathematics of matrices, the efficiency of new buildings exploits advances in nano-technology, the pills we pop depend on understanding the functioning of the body at a cellular level."
The festival, which runs until 24 March, attracted about 30,000 people last year over 102 events.
This year 119 events will be staged at venues including Witney, Didcot and Woodstock.
Professor du Sautoy will host an event where festival-goers will aim to calculate pi - the ratio of a circle's circumference - using techniques from the pre-computer age.