Thame Show organisers defend event returning in July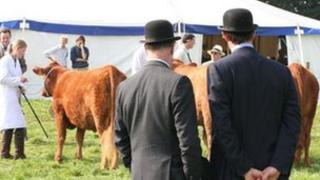 The new director of the Oxfordshire County and Thame Show has defended the event returning this year on 13 July.
Last year's show was cancelled after the date clashed with the 2012 Olympics opening ceremony and the 2011 event incurred losses of around £40,000.
There was also criticism over plans to move the event from a traditional harvest festival in September to July.
Director Chris Parker said September was no longer a viable option because of a packed programme of local events.
He said: "Three out of the last four shows held in September lost money, so the organising committee felt a change was needed.
"We had a company conduct a survey for us and it became apparent it was better to hold the festival on a Saturday than on a Thursday.
"Our expenditure has previously been well over budget and we've made a number of cuts for this year which we hope will have some benefits."
This year's event will feature fewer tents and no public bar, but a local food and drink festival will be introduced.
Mr Parker added: "We couldn't go again for a Saturday in September as we couldn't find a free one.
"There's lots of other events going on locally at that time, including the Blenheim Horse Trials, the Berkshire County Show in Newbury and the Henley Agricultural Show."