Cotswold Maternity Unit recommended to reopen in July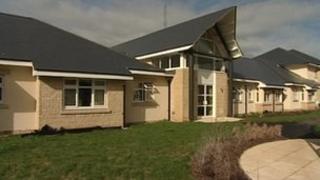 A maternity unit which was closed amid fears over working practices could reopen if improvements are made.
Cotswold Maternity Unit in Chipping Norton, a midwife-led centre for women with low-risk pregnancies, shut in October.
Health chiefs have agreed the centre can reopen on 1 July if 31 improvement measures set out in review are put in place.
Campaigners say the unit should reopen immediately.
'Fantastic unit'
The review, which was carried out by Oxford University Hospitals NHS Trust, was sparked by concerns over working practices, higher than expected transfer rates and falling birth numbers.
Ward councillor Hilary Biles said she was "extremely disappointed" with the recommendations, but added she was pleased the unit would reopen "eventually".
"The midwives from the unit are still operating in the community - for the life of me I can't understand why they can't deliver in the fantastic unit," she said.
Jennifer Lanham, chair of the local Maternity Services Liaison Committee, said she thought the review should have been independent and argued the unit should not have been closed.
Birth targets
Paul Brennan, director of clinical services at Oxford University Hospitals NHS Trust, said the report concluded it was "appropriate to reopen the unit for births" but said a period of three months was needed to address the recommendations.
Mr Brennan said the review called for a "substantial increase" in births to ensure the unit is sustainable and called on health officials to work together to promote it.
Thirty-two babies were born at the unit between April and September last year.
Health officials said at least 150 births were needed at the unit each year to ensure it remains viable.
The review found local support for the unit and "excellent" practice by some midwives.
But it said not all midwives complied with working practices and as a result some mothers and babies could have been put at risk.
Some staff at the unit had claimed there was a "culture of bullying" and said some midwives felt isolated and excluded.
However, there was evidence of risk management procedures being improved and patient transfer rates were found to be appropriate.
A final decision will be made by Oxford University Hospitals NHS Trust board members on 12 June.