Bicester bomb disposal training base opens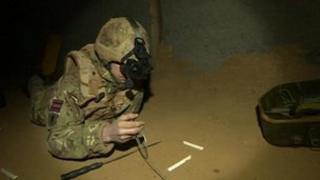 A new £100m training base for military explosives experts has opened in Oxfordshire.
The centre at St George's Barracks in Bicester will train service personnel in how to deal with Improvised Explosive Devices (IEDs).
The site includes a cave complex, dive pool and roadways.
Lt Col Chris Henson said it would offer more realistic training for those dealing with such devices in Afghanistan.
The Defence Explosive Ordnance Disposal, Munitions and Search Training Regiment (DEMS Trg) Regiment will bring together 4,000 service personnel from the Army, Royal Navy and RAF each year.
The facility, which replaces the one at Lodge Hill in Kent, has been eight years in the planning.
It also brings together bomb disposal experts and teams who search for devices for the first time.
'More realistic'
General Sir Peter Wall, Chief of the General Staff, said "thought and imagination" had gone into the training facility.
He added: "This marks another significant waypoint in developing further the unique capabilities that are probably done better here than anywhere else in the world.
"That's not a false claim... we have been evolving over many years of campaigning in numerous theatres around the world.
"This is a path to the future. I think these sorts of devices will become prevalent to about every operation that we're involved in."
Commanding officer, Lt Col Chris Henson said: "It's allowing us to get that cross-fertilisation of ideas in training, and prepare much more realistic training for our guys."