Oxfordshire council angry over 'unexpected' snowfall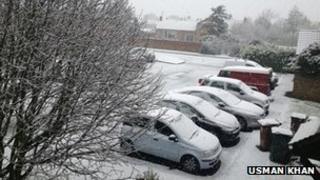 Unexpected snow across Oxfordshire has led to criticism of the Met Office by the county council.
Deputy leader councillor Rodney Rose said there were no warnings in the overnight forecast and it was their own road sensors which first alerted them.
He said gritters were eventually sent out but it was too late to stop a number of crashes across the county.
The Met Office said the situation was "finely balanced" and warnings were put in place in the early hours.
A spokeswoman said a yellow warning was issued at 03:00 GMT, which included parts of south-west Oxfordshire and was extended to include the whole of the county from 08:30 GMT.
She added: "We had an area of rain, sleet and snow moving up from the south.
'Cars twitching'
"It was finely balanced. From 06:00 GMT it became apparent it was going to fall over a wider area and the warnings were extended."
Mr Rose said the council was likely to review its deal with the Met Office.
He added: "The forecast that we pay quite a lot of money for... came through with no warnings overnight.
"We weren't totally caught out, we have sensors in the roads all over the county and at 05:00 they showed a drop in temperature so we started salting at that point.
"It became obvious it was going to be over the whole county and we mobilised the whole fleet."
Chris Bartell, from near Woodstock, said roads had become treacherous in the conditions.
He added: "I expected the roads to be properly gritted and fine but they were absolutely not.
"Cars were twitching all over the place, my own car on a particular roundabout almost went into a half spin."
Any remaining snow is expected to clear the county later with clearer conditions forecast for Monday.