Shiplake 'near-miss' rail crossing gets safety barriers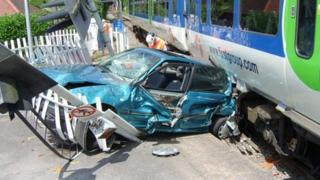 Barriers have been installed at a level crossing that was one of the most "prone to misuse" in the Thames Valley, Network Rail has said.
Since 2009 there have been 39 reports of misuse and 13 near misses with vehicles and pedestrians at Shiplake on the Berkshire/ Oxfordshire border.
The half-barriers would "act as an extra deterrent," Network Rail said.
They are part of the rail firm's £130m investment programme to improve level crossing safety.
New technology has allowed the firm to install the barriers without making major changes at the crossing.