Water voles prevent cycle path on Oxford Canal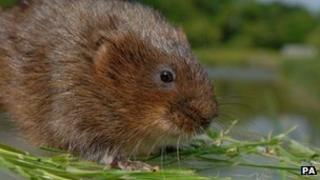 Water voles found burrowing by the canal in Oxford have led to a cycle path scheme being scrapped.
The towpath between Elizabeth Jennings Way and Walton Well Bridge was due to be resurfaced by cycling charity Sustrans.
The Canal and River Trust said space must be left for the voles' waterside habitat, making the path too narrow to resurface as a cycle path.
Sustrans' Peter Challis said the end of the scheme was "very disappointing".
He said they had been informed "at the 11th hour" that a ecological study had found the presence of water voles.
"We certainly try and work around things whenever we can, but sometimes it's not possible.
"Basically there isn't a way around this. It was very disappointing, we were all set to go," he said.
A spokesman for the Canal and River Trust said: "The water vole is the nation's most endangered mammal and we've got to be very sensitive to them and make sure they are protected."
He added the trust was still looking at alternatives for improving facilities for cyclists in the area.
The endangered water vole, immortalised by Kenneth Grahame's character Ratty in the Wind in the Willows, has suffered from loss of habitat and pressure from mink.