Cavalcade marks 100 years of motor manufacturing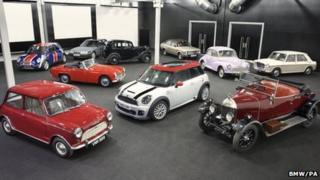 A cavalcade of Oxford-built vehicles has made its way through the city to mark 100 years of motor manufacturing.
Forty cars left the BMW Mini plant at Cowley for the city centre on Friday morning.
The cars, including Minis, Rovers and Marinas, were driven by enthusiasts and displayed at Broad Street.
Ian Cummings, the third generation of his family to work at the plant, said it had "given huge employment opportunities for the city".
The Cowley plant now employs about 3,700 people and produces Minis for the BMW Group.
The factory was founded in 1913 by William Morris, one of the most successful businessmen of the 20th century, and built the first Bullnose Morris close to where the modern plant stands today.