Marsh Baldon villagers reopen Seven Stars pub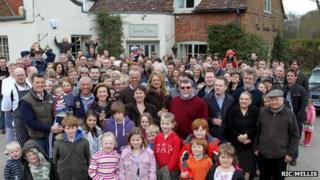 Oxfordshire villagers are celebrating the reopening of a historic pub after raising thousands of pounds to buy it.
The Seven Stars pub in Marsh Baldon was closed in October but was saved after £110,000 was raised and a loan secured from the previous owner.
Villagers created the Baldons and Nuneham Community Society Limited (BNCS) to buy the pub which is mentioned in the Domesday book.
BNCS chairman Liz Jones said the opening was "amazing".
BNCS has hired landlord Matt Ford from Botley to run the pub and it is now open seven days a week.
Ms Jones said: "Everyone pulled together as a community and we have so many to thank.
"Some put money in, others hard work. Thanks to everyone working together we have got our pub back."
Phil Collins, from BNCS, said the pub was offering food as well as drink and that Mr Ford has hired "a terrific team of staff".
He added: "Now we want everyone to come to the Seven Stars to give it some support and see how good it is."