Oxford Kassam Stadium 'STFC' pitch burning case dropped by CPS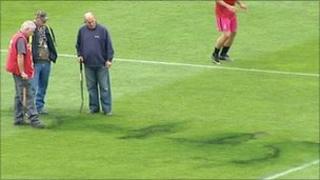 A man accused of breaking into Oxford United's Kassam Stadium and burning the initials of a rival team into the pitch will face no further action.
Liam Jones was captured on CCTV in August 2011 burning 'STFC' - the initials of local rivals Swindon Town FC - into the grass.
He since been jailed for two years and nine months for other offences.
The Crown Prosecution Service said it had dropped the case as "prosecution would not be in the public interest".
The CPS said Jones had been convicted of "matters of actual bodily harm and affray" and was subject to a six-year football banning order.
A spokesperson for Thames and Chiltern CPS said: "If convicted of the criminal damage to the football pitch, it is unlikely that the defendant would have received any further punishment or been ordered to pay compensation to the football club.
"Therefore, it was determined that it was no longer in the public interest to proceed with the charge of criminal damage."