Oxford exploitation trial: Accused denies 'gross crimes'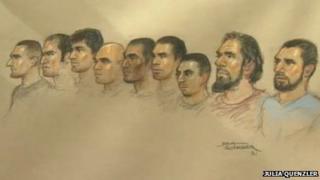 A man accused of raping and prostituting children has told a court he did not commit what he described as "gross crimes".
Mohammed Karrar, 38, said he never forced an alleged victim to take part in sex parties involving up to 15 men "three or four times a week".
Mr Karrar is one of nine men on trial at the Old Bailey for allegedly grooming and sexually exploiting children in Oxford.
They all deny the charges.
Mr Karrar also denied injecting the girl with heroin and having sex with her before and after her thirteenth birthday.
He told the court: "I've never done any of these things."
'Dressing up'
During cross examination Noel Lucas QC, prosecuting, said Mr Karrar and his brother Bassam had sex with the alleged victim on "several occasions".
Mr Karrar said this was not true.
Mr Lucas said there had been sex parties where the alleged victim had to dress up and treat customers like important guests, which Mr Karrar also denied.
The prosecutor said she had told the court she took drugs because "it was better than feeling - that's what you reduced her to".
"No I did not," Mr Karrar replied.
The defendant also denied that sex toys were used on the girl and that she was taken to parties where men performed sexual fantasies on her.
Mr Lucas asked: "Is this all a conspiracy just to get you convicted Mohammed Karrar?"
He replied: "I've never done any of these things. I would never do any of these things. I've got kids myself."
The trial is expected to last until May.
The defendants are:
Kamar Jamil, 27, formerly of Aldrich Road, Oxford
Akhtar Dogar, 32, of Tawney Street, Oxford; and his brother Anjum Dogar, 30, of Tawney Street, Oxford
Assad Hussain, 32, of Ashurst Way, Oxford
Mohammed Karrar, 38, of Kames Close, Oxford; and his brother Bassam Karrar, 33, of Hundred Acres Close, Oxford
Mohammed Hussain, 24, of Horspath Road, Oxford
Zeeshan Ahmed, 27, of Palmer Road, Oxford
Bilal Ahmed, 26, of Suffolk Road, Maidenhead