Oxford exploitation trial: Sex case man 'believed girl was 17'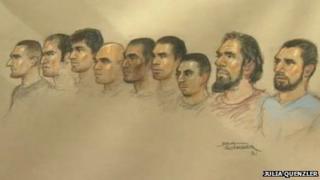 One of nine men on trial for sexually exploiting children in Oxford has told a court a 14-year-old girl he had sex with had told him she was 17.
Mohammed Hussain, 24, of Horspath Road, Oxford, said he met the girl in the city's Cowley Road in 2011 and at first thought she looked "around 18".
He denies three counts of sexual activity with a child.
The nine men are on trial at the Old Bailey for allegedly grooming and sexually exploiting children in Oxford.
They all deny the charges.
Mr Hussain said the girl, who cannot be named for legal reasons, was "well-developed" and "confident".
He said they "started seeing each other" usually at night in the Cowley area where they would listen to music, smoke and drink.
He told the court at some point "fairly early on" the girl told him she was 17. He was 22 at the time.
He said she would do "adult things" like smoke cannabis and drink, and she had "older mates".
Mr Hussain, now 24, said he had sex with her about five times.
He told the court he only found out she was 14 when his solicitor told him and he "couldn't believe it".
When asked if he would have had sex with her if he had known her age he said: "Not at all, never. It is not like me, I find that revolting".
The trial is expected to last until May.
The defendants are:
Kamar Jamil, 27, formerly of Aldrich Road, Oxford
Akhtar Dogar, 32, of Tawney Street, Oxford; and his brother Anjum Dogar, 30, of Tawney Street, Oxford
Assad Hussain, 32, of Ashurst Way, Oxford
Mohammed Karrar, 38, of Kames Close, Oxford; and his brother Bassam Karrar, 33, of Hundred Acres Close, Oxford
Mohammed Hussain, 24, of Horspath Road, Oxford
Zeeshan Ahmed, 27, of Palmer Road, Oxford
Bilal Ahmed, 26, of Suffolk Road, Maidenhead