Eoin Hartwright bids for youngest Atlantic Ocean rower title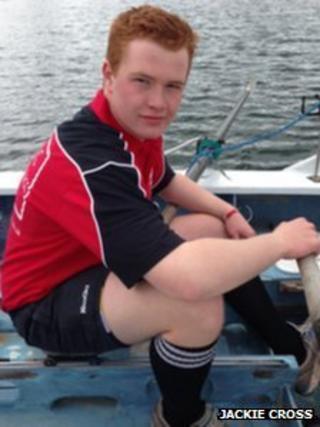 A teenager from Oxfordshire is bidding to become the youngest rower to cross the Atlantic Ocean.
Eoin Hartwright, 16, from Appleford, will be part of a four-person team rowing 3,000 miles from the Canary Islands to Antigua in the Caribbean.
If successful, he will break the record held by Rachel Flanders - who was 17 when she started her Atlantic row in 2008.
Eoin will be raising £200,000 for Children In Need.
'Gruelling and horrible'
The GCSE student will set out on 2 December - a month before his 17th birthday - in a challenge dubbed "the world's toughest ocean rowing race" by organisers Atlantic Campaigns.
Eoin, who started rowing aged 11, said he anticipated the challenge would be "gruelling and horrible," with "blood, sweat, pain and tears".
He said he was inspired to do the challenge when, as a 12-year-old, he heard a talk by Mick Dawson, who was part of the first team to row across the Pacific Ocean.
"Ever since I heard him speak I could never get the challenge out of my head," he said.
Eoin is training two hours a day on a rowing machine, but after completing his GCSEs he said training would "become a lot more serious".
He is also meeting up with Mr Dawson for tips and advice.
During the race Eoin will be living off water and rehydrated food and rowing two hours on and two hours off in a boat 26ft (8m) long.
He said resting in the boat's small cabin would be "a tight squeeze" as he is 6ft 2in (1.89m) tall and one of his team mates Karl Steans stands at 6ft 8in (2.08m).
Race organisers said, on average, the challenge would take teams 60 days - though Eoin said his team wanted to complete it in 40 days.
The Ocean Rowing Society, the official adjudicator of ocean rowing records for Guinness World Records, confirmed Eoin would be the youngest Atlantic rower and added the rower's age on departure - not arrival - is what is recorded.