Cold March affects red kite breeding in the Chilterns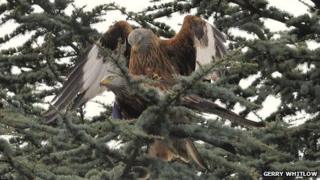 Red kites in Oxfordshire are laying their eggs "unusually late" due to the unseasonably cold weather in March, a conservation group said.
The birds of prey at the Chilterns Area of Outstanding Natural Beauty (AONB) are laying their eggs about 10 days later than normal.
Southern England Red Kite Group also said it could result in smaller broods.
The Met Office said last month was the coldest March since 1962 with an average temperature of 2.2 degrees.
Pete Stevens, from Southern England Red Kite Group, said: "It's very unusual for the birds to lay their eggs so late - females are usually sitting on their eggs by early April.
"Although some have laid their eggs on time, most of them haven't and I suspect it will mean smaller broods this year."
Between 1989 and 1994 red kites were reintroduced into the Chilterns by the RSPB and Natural England. Before then they had not bred in the area since 1835.
The Chiterns Conservation Board said the area now had the highest breeding density of red kites in England and added there could be more than 600 breeding pairs in the area.
Female red kites lay up to four eggs each year.
Southern England Red Kite Group is requesting sightings of red kite nests from members of the public to help it monitor the breeding population.