Oxfordshire helmet rediscovered in Swalcliffe Church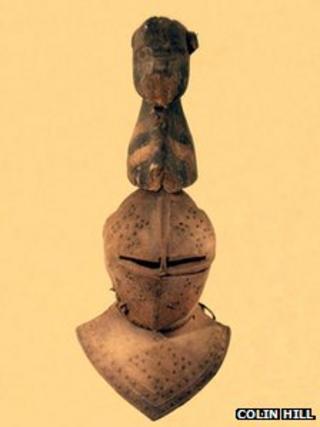 A centuries-old iron helmet has been rediscovered in a church cupboard in Oxfordshire.
Villagers found the decorative helmet - with a crest in the shape of a bull - in pieces during an inventory of items at St Peter & St Paul, Swalcliffe.
Archaeologist Cathy Stoertz has called it a "fascinating part of local human history".
The helmet has been reassembled and is on display at Tythe Barn in the village near Banbury.
While the artefact resembles a medieval military helmet it is thought to date to the late 16th Century or early 17th Century.
Ms Stoertz said: "It was never meant to be worn in battle but was instead a decorative funerary piece commemorating a wealthy local man.
"It appears to have been made in an old-fashioned style, harking back to the days of romance and chivalry."
'Cushy number'
Before being packed away in a cupboard in the 1960s, the helmet sat on a church window ledge near monuments of the Wykeham family.
This has led to speculation that it belonged to one of the indirect descendants of William of Wykeham, who was Bishop of Winchester and Chancellor of England in the 14th Century.
He also founded New College, Oxford, and Winchester College.
The society believes Humphrey Wykeham, who died in 1597, is the most likely contender.
Ms Stoetz said: "He was trying to get one of his sons admitted to Winchester College for free with 'founder's kin privileges' which was quite a cushy number.
"He was trying to prove his family's genealogical links back to the founder and I wonder whether the family, in an attempt to emphasise their social status and their association with William of Wykeham, constructed the helmet."