Robert Fleeting suicide: Police to review RAF firefighter's death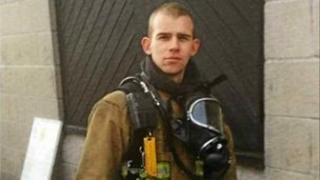 A watchdog has ordered Thames Valley Police to review its investigation into the death of a Scottish RAF firefighter at an Oxfordshire barracks.
Senior Aircraftsman (SAC) Robert Fleeting, 24, of South Lanarkshire, was found dead in his room at RAF Benson on 4 September 2011.
A coroner's inquest found he had committed suicide after having his first sexual experience with a man.
The Independent Police Complaints Commission (IPCC) ordered the review.
Susan Fleeting, Robert's mother, said she was "ecstatic" the case was being re-examined.
She added: "At long last somebody's actually listening."
Sexual injuries
SAC Fleeting was found hanging in his room after a night out drinking in Henley-on-Thames.
The coroner ruled he took his own life after having sex with a fellow serviceman at the base.
But Robert's parents believe his body had sexual injuries indicating it may not have been consensual.
His father, Charlie, added: "We know our son better than anybody else.
"They buried Robert on the 15th of September and that's the Royal Air Force's greatest day.
"That's the Battle of Britain [Day], so it's now our Battle of Britain.
"We just want to know what happened to Robert.
"The end result's always going to be the same. He's never coming back but we'd like to know what happened to him. That's all we're asking."
A Thames Valley Police spokesman said it had been instructed by the IPCC to review a "number of areas of its initial investigation".
"Once the Force has completed its review, it shall report its findings to the IPCC," the force spokesman added.