Disabled-friendly farm park opens in Oxfordshire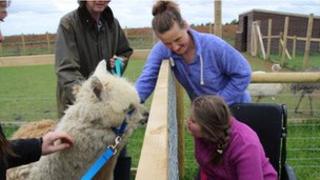 An accessible children's farm park inspired by a couple's disabled daughter has opened in Oxfordshire.
Nick and Nicola Laister have spent almost five years creating Fairytale Farm near Chipping Norton.
It is designed around the needs of children with sensory, learning and physical disabilities but built for all young people to enjoy.
The park, thought to be the first of its kind, was inspired by 15-year-old Olivia who has cerebral palsy.
Planning consultant Mr Laister, 43, said: "We decided some years ago to acquire some land and create a visitor attraction where disabled children and their families can spend a day out in the countryside enjoying various rural activities on a site where everything is designed primarily around their needs.
"Our vision was to create the sort of attraction that we would have liked to visit with our own children, which Olivia could have enjoyed alongside her brothers and sister."
Mr Laister and wife Nicola, 44, were granted planning permission to build on Southcombe Farm near Chipping Norton in 2009.
Attractions include a sensory trail called The Enchanted Walk with interactive features and a fairytale-themed playground, complete with a wheelchair-accessible swing.
The farm's animals include alpacas, pigs, goats, donkeys, chickens, ponies and rheas, a species of bird from South America.