Abingdon's 12 Logistic Support Regiment parade takes place after security review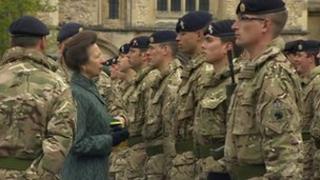 About 1,500 people turned out to watch a military parade in Oxfordshire attended by the Princess Royal.
Security measures at the Abingdon event were stepped up following the murder of Drummer Lee Rigby by two assailants in south-east London on Wednesday.
Capt Phil Pascoe from 12 Logistic Support Regiment said he hoped the parade would not be overshadowed by the "terrible" events in Woolwich.
It featured 270 troops recently returned from Afghanistan.
They are based at Abingdon's Dalton Barracks and have completed their first six-month tour in Helmand province.
'A celebration'
Princess Anne was the guest of honour and presented 90 medals to the assembled squadrons.
Capt Pascoe said: "Obviously our condolences and thoughts go to the family and friends of Drummer Lee Rigby.
"However, today's very much a celebration of the two year's build up, and then the tour in Afghanistan of six months."
Peter Caddick-Adams, from the Defence Academy at Shrivenham, said extra security measures were taken.