Kevin McCloud's Oxford eco-home plans granted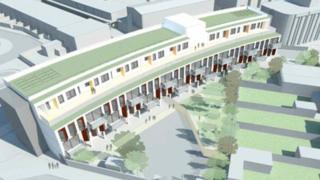 Plans led by TV presenter Kevin McCloud to build about 70 eco-homes in Oxford have been recommended for approval.
The Grand Designs presenter's house-building company is part of a venture with Oxford City Council to redevelop three sites in Cowley and Northway.
A council planning meeting on Wednesday approved two developments. A third at Barns Road, Cowley, was rejected.
Mr McCloud said: "We build some of the poorest quality housing in Europe. I want to change all that."
The proposed building at Barns Road, which featured 40 apartments with a residents' roof garden and a community garden, was turned down over parking concerns and the size of its community centre.
Hemp plant walls
The Westlands Drive project for two three-storey mansion blocks containing 21 flats with a communal garden was approved.
The proposed development at Dora Carr Close will provide 19 houses, and a four-storey mansion block containing 28 flats another communal garden was also approved.
The development includes a hall with sports changing rooms, café areas, local business units, and outdoor areas for growing food.
Walls are built from Hemcrete, a material made from the hemp plant, and rainwater is harvested from the roofs of houses.
Each site has a community focus with homes containing a touchscreen panel that acts as a virtual notice board on which residents can leave messages for all to read.