Oxford Pride: Man attacked during festival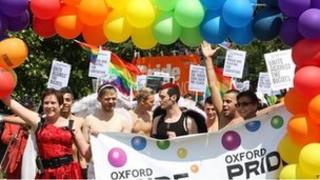 Organisers of a gay pride parade in Oxford say they are shocked after a man suffered a homophobic assault during its annual festival week.
Police are investigating after a man, 29, was beaten up by two men in Cornmarket Street on Tuesday.
Oxford Pride's Terri Talbot said: "It's horrendous. No person should be attacked for who they are."
It comes as 5,000 people are expected to take part in a lesbian, gay, bisexual and transgender pride parade.
Ms Talbot added: "This parade is not about being gay or bisexual, it's about equality for all and saying no to violence."
The homophobic assault happened on the night of a pride event organised at a music venue.
Police said the men used homophobic language towards the man before punching and kicking him.
The week long event which started as a street party in 2002 is held at venues throughout the city.
It culminates with a carnival-style parade through the streets ending with a festival at Oxpens Park.
The parade was due to start at 12:00 BST in Ship Street.