Castle Quay Shopping Centre extension announced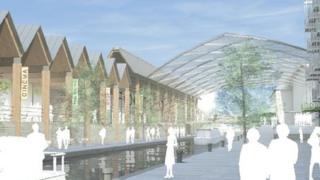 Plans for a major extension to a shopping centre in an Oxfordshire market town have been unveiled.
Proposals submitted by Castle Quay Shopping Centre in Banbury include 154,000 sq ft (14,300 sq m) of retail space and a hotel.
Cameron Murray, from the centre, said the development would ensure the "picturesque town centre continues to be a popular tourist destination".
If approved the extension could be completed by 2015.
A planning application will be submitted to Cherwell District Council by the end of July, with a public consultation due to take place in the town.
The current complex receives about 250,000 visitors per week.