Thousands of bikers in Oxfordshire Ride of Respect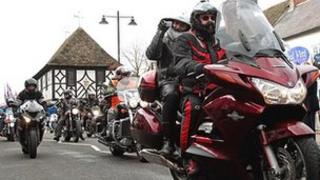 About 2,000 motorcyclists are to converge on Oxfordshire to pay respects to soldiers killed in action and thank residents for supporting families.
The 24-mile Ride of Respect will travel from Dalton Barracks in Abingdon and pass RAF Brize Norton.
It is the first time the ride will be held in the county since repatriations moved to RAF Brize Norton from RAF Lyneham in Wiltshire in 2011.
The three previous rides have travelled through Royal Wootton Bassett.
Bikers will also pass the Repatriation Memorial Garden in Norton Way, Brize Norton.
The ride is expected to raise thousands of pounds for the Royal British Legion, with each rider making a donation to the charity to take part on Sunday.
Riders will be escorted by Thames Valley Police officers on motorbikes who will enforce temporary road closures where needed.