Oxfordshire library book returned 55 years late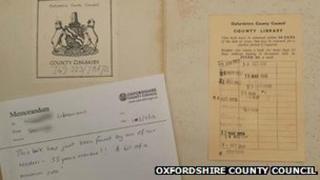 A library book has been returned nearly 55 years late, leaving staff stunned.
The book about Regency furniture, originally loaned for three weeks, had been due back at Oxford City Library on 30 November 1958.
Oxfordshire County Council's libraries service said an elderly lady brought the item - now deleted from its catalogue - into Witney Library.
The fine for overdue books in 1958 was 2d a week. Staff said they turned down the woman's offer to pay a fine.
Reader services manager Jane Mason said: "It was a very busy day so staff were unable to get more details from her - she very quietly pulled a member of staff aside and said she would like to return a very overdue book.
"She offered to pay something for it but the fines for it won't exist any more."
'Lovely curiosity'
The book - Regency Furniture 1795-1820, by Margaret Jourdain - was borrowed from the old Oxford City Library, at the time based in the Town Hall in St Aldates.
A memo accompanying the returned item to the county's library support services read: "This book has just been found by one of our readers - 55 years overdue!! A bit of a museum piece!"
Ms Mason said: "I've worked in Oxford Public Libraries for 23 years and we have had about half a dozen very overdue books - about six or three years - but 55 years is extremely unusual.
"It makes you wonder where has it been all these years.
"It's a lovely curiosity - one of the things that's curious to people is the fine for the book in 1958 was 2d a week.
"It's very difficult to work out how much that might be by now but we think it is probably about £900."
No records remain of the original borrower and it is not clear how much the book is worth, although its condition means it will not be able to go back on the library shelves.
A spokesman said it would probably be sold to help pay for new books.