First aider Gof Smith sacked for speeding to be retrained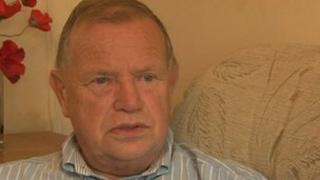 A volunteer first aider sacked for speeding on his way to an emergency call in Oxford could be re-instated after undergoing training.
Gof Smith, 64, said he was "thrilled" after hearing the news.
More than 1,500 people in Faringdon signed a petition in support of Mr Smith after he was sacked for driving at 33mph in a 20mph zone.
South Central Ambulance Service said it could not "prejudge the outcome" of the reassessment process.
'Valued service'
In a statement, it said Mr Smith was originally sacked for "having committed serious traffic offences".
However, following an appeal, the service reviewed the dismissal and agreed to carry out a process of "retraining and re-assessment" with Mr Smith, in recognition of his "valued service".
Mr Smith, who has spent 15 years as a community first responder (CFR), was dismissed after speeding while responding to an emergency call where a man had collapsed in the street in St Clements, Oxford, on 23 July.
The man survived after being treated by Mr Smith.
His car was recorded doing 33mph by the ambulance service's in-car logging system as he drove through a 20mph zone.
Mr Smith says he did not realise the speed limit in the area.
A CFR is a volunteer trained to attend emergency calls received by the ambulance service and provide care until an ambulance crew arrives.
They are not permitted to exceed the speed limit, even if attending an emergency call.