Oxford's Covered Market 'dark and dated'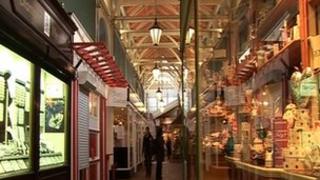 A historic market in Oxford is underperforming because it is "invisible, dark and dated", according to an official report.
The Covered Market has been operating for more than 200 years in a building dating back to the 1770s.
Oxford City Council is considering the market's future, and commissioned the independent review in which the criticisms were levelled.
Shop owner Joy Hetherington called the report "interesting and thorough".
The Retail Group, which carried out the review, said while the market was in the heart of Oxford, it had "hardly any impact whatsoever".
In addition, many shop light panels were in poor condition and internal lighting was "ineffective and insufficient".
The report criticised some traders for not investing in their shops or evolving with the rest of the city.
It added: "With seven butchers (of mostly great quality), it has one of the best butchery offers in any market in the UK.
"Unfortunately, the fresh food offer is let down by the majority of catering units, which offer a basic, mass market and dated experience."
'High hopes'
It cited Borough Market and Covent Garden Market in London, Les Halles de Lyon, and Mercado de San Miguel in Madrid, as examples of a "much better customer experience".
Colin Cook, board member for city development, said: "Our ambition is to retain the market as a place where there are independent shops and a variety of different trades but we want it to be an integral part of the city's retail offer with an international reputation."
Ms Hetherington, who owns Oxford Aromatics and is a member of the Covered Market Traders Association, said: "I have high hopes of the council implementing many of its recommendations, particularly the appointment of a market manager to champion the revitalisation of our much loved market."
A petition to "Save The Oxford Covered Market" has gathered more than 11,000 signatures since it started in March after the council proposed rent rises of up to 50%.
There are more than 50 independent shops on the site.