Oxford Cowley Road music 'shop for the stars' faces closure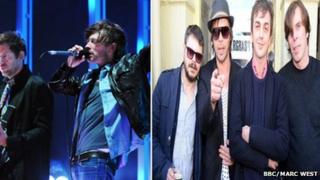 A music shop which has served the likes of Radiohead and Supergrass faces closure if plans to build a hotel restaurant on it are approved.
More than 1,200 people have signed up to a Facebook group to try to save the store in Oxford's Cowley Road.
Professional Music Technology's unit is set to be converted into a cafe and restaurant as part of hotel development in the same building.
Oxford City Council will debate the plan on Tuesday.
The restaurant, which is recommended for approval, would be located on the ground floor of Tyndale House.
A separate application to open a 66-bed Travelodge hotel on the upper floors of the building was granted planning permission last February.
It would be open to both hotel guests and the public.
But, four Oxford city councillors have called the application in over concerns at a loss of shops in the east Oxford area.
Music shop manager Darren Fellerdale hopes their support can stop the plans from going ahead.
He said: "Independent retailers are vital on Cowley Road.
"There's council policy that says we need 65% of units there to be retail.
"At the moment it's under that and if we were to go I think it drops to something like 56%, which is way under what it should be."