Oxford students camp overnight for Jericho houses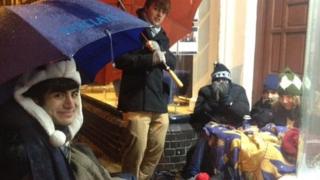 Students queued overnight outside an Oxford letting agency in a bid to secure the best accommodation for next year.
The 20m (65ft) queue formed on Wednesday afternoon ready for leases for September 2014 to become available.
North Oxford Properties letting agency said students were "demanding better quality".
First-year student John Connelly said: "People will go to all lengths to get these houses."
'House parties'
Law student Natasha Stevens said she hoped to secure a three-bedroom house in the popular Jericho area when the agency opened on Thursday morning. The rent will be about £1,400 a month.
"It's a bit more expensive but we think it'll be worth it. It's open plan downstairs and lots of room for house parties.
"Some people leave getting their houses until the start of next year, but I think that's a bit stressful," she added.
Robin Swails of North Oxford Properties said students regularly queued overnight for properties, but in recent years new regulations on houses of multiple occupation (HMOs) had reduced the supply of high quality properties available to students.
Oxford City Council currently applies HMO licensing to houses of three or more unrelated inhabitants, as opposed to five people in most other cities.
Mr Swails said that while the regulations improved safety standards, landlords were finding it more lucrative to rent high quality accommodation to professionals, rather than students.
"Students are demanding better quality. They set out what they want - wet rooms, double beds, modern kitchens. They love it when they get what they want."