Littlemore mother and daughter were 'dead for some time'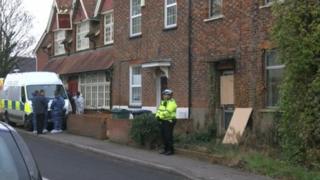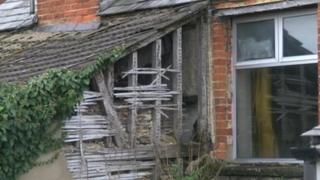 A mother and daughter found in a dilapidated house in Oxford had been "dead for some time", police have said.
Named locally as Caroline Jessett, 52, and Pauline Jessett, 78, they lived in the "structurally unsound" house in Cowley Road, Littlemore.
The daughter was discovered on 21 November after an environmental health team contacted police, following calls from neighbours.
After work to make the house safe, the second body was found on Thursday.
Thames Valley Police said the deaths were "unexplained", but there was nothing to suggest they were suspicious.
'Reclusive for years'
Det Insp John Turner said it appeared the women had been "dead for some time".
Next door neighbour Raymond Bailey, who has lived in the area since 1964, described the women as recluses.
He added: "The mother I hadn't seen for 30 years. The daughter I used to occasionally see going to the shops, but I haven't seen her for quite awhile.
"Repairs hadn't been done for at least 20 years or more, since the husband died.
"It had been going on so many years - you didn't see them and so you didn't look for them.
"If you knocked on their door and asked how they were they wouldn't open the door."
Local businessman Juan Louro said he was "shocked" by the news.
He added: "I'm devastated, it's sad. I don't like things like this. It's sad enough when you die, but this is upsetting."
Det Insp Turner said police were not looking for anyone else in relation to the investigation.
"The house is now structurally sound and not a danger to anyone who may be walking past it," he added.
Post-mortem examinations on both women have proved inconclusive.
Oxfordshire County Council said they were not known to social services.
The police investigation at the house continues.