Vale councillor stole £150,000 from elderly woman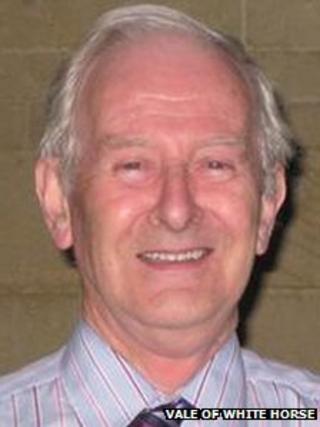 A councillor from Oxfordshire has been found guilty of stealing more than £150,000 from a 92-year-old woman who has since died.
John Morgan, a Conservative Vale of White Horse district councillor, stole the cash from Beryl Gittens, who lived in Berkshire, between 2004 and 2012.
Morgan, 74, of Highclere Gardens, Wantage, denied theft, claiming he had acted according to Mrs Gittens' wishes.
He will be sentenced at Oxford Crown Court in January.
Morgan, also a Wantage town councillor, told the court Mrs Gittens had told him to spend the money because she did not want her family arguing over it when she died.
He spent the majority of the £154,000 on gambling slot machines at service stations and in Las Vegas, the court heard.
Suspicions were aroused after Mrs Gittens' death when there was not enough money to pay for her funeral.
'Pure greed'
Following the verdict, CPS prosecutor Ruth Bowskill said: "John Morgan abused his friendship with Beryl and his appointment as her power of attorney for his own financial gain.
"His actions were premeditated and motivated by pure greed.
"Not content with stealing her assets, Morgan continued to steal her pension money, which was to supplement the council's contributions to her care home.
"He is undoubtedly an extremely dishonest, calculated and self-indulgent man.
"Beryl was known to be very careful with her money and had amassed significant savings, which were to be left to her son, who lived in Australia.
"She was left overdrawn, in debt to the local authority, and with no money to pay for a funeral meaning she had to have a pauper's funeral."