Henley's living advent calendar raises £2k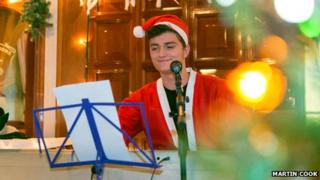 A "Living Advent Calendar" in Henley-on-Thames which features a 15-minute "performance" every night until Christmas Eve, has so far raised £2,000 for four charities.
The beneficiaries include the Ocians Project which offers free online teaching sessions from sea locations.
More than 100 local businesses taking part in events.
Prime Minister presented it with the Big Society Award for its community spirit and charity fund-raising.
"Henley's living advent calendar is a brilliantly unique embodiment of Christmas community spirit," he said.
'Oceans to life'
The opening night of the third Henley Living Advent Calendar featured a performance by Glee Club UK who sang a medley of Christmas favourites,
Local firefighters also performed a skit rescuing Santa outside their station.
The events help raise funds for four charities: Oceans Project; Henley Youth Centre; Royal British Legion Poppy Appeal and Henley Regatta for the Disabled.
Henley-based Sarah Weldon and her teammate Susannah Cass from the Oceans Project will use money raised for educational purposes as they prepare next May to become the first female pair to row across the Pacific Ocean.
It is hoped the scientists will "bring the oceans to life for students around the world" by teaching "live from the boat" in subjects including science, technology, engineering, and mathematics as well as English as a Foreign Language.
Ms Weldon said the Living Advent Calendar was also "a wonderful way for us to engage with the local community and businesses".