Cowley Next store 'Santa Claus' raider hunted by police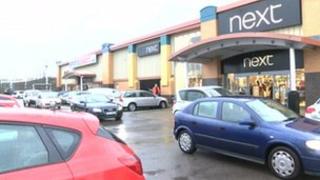 A man dressed as Santa Claus held shop staff at knifepoint and demanded cash before fleeing on a bike.
The man walked into a staff area at Next in Oxford Retail Park in Ambassador Avenue, Cowley, Oxford around 09:30 GMT.
Following the robbery, he made off on the bicycle towards Blackbird Leys bridge.
He was wearing blue fleece and jeans under his Father Christmas outfit. Police are appealing for witnesses.
The man, described as white, of medium build and around 5ft 9ins to 6ft tall, is believed to be aged in his mid thirties.