David Silvester gay marriage flood row petition starts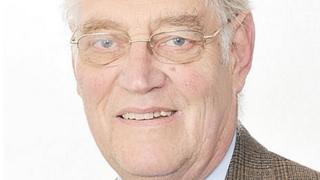 More than 1,000 people have signed a petition demanding the resignation of a UKIP councillor who blamed recent floods on gay marriage.
David Silvester's local authority, Henley town council, said it was powerless to force him to step down, despite a number of complaints.
The online petition also asks UKIP to suspend him permanently.
Mr Silvester did not wish to comment, but told the Henley Standard on Sunday he had no intention of standing down.
In a statement, Henley-on-Thames Town Council said it "strongly refuted" any suggestion that Mr Silvester's views reflected those of the town council.
Defied media ban
It said it had no powers to make Mr Silvester resign, although 12 complaints had been made to the local authority - including calls for him to resign or be removed.
South Oxfordshire's district council can appoint an independent investigator to find out if there has been a breach of the council's code of conduct.
The strongest sanction the council can take is to issue a reprimand.
In a letter to his local paper, Mr Silvester said he had warned the prime minister the government's same-sex marriage legislation would result in "disaster".
He said David Cameron had acted "arrogantly against the Gospel".
The councillor was suspended from UKIP on Sunday following the row because he defied a party request not to do further media interviews.