Oxford road projects awarded Department for Transport funding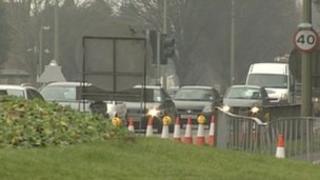 Three transport projects in Oxfordshire have been awarded nearly £11m in government funding.
The schemes to attract funding are the link road in Wantage and traffic lights at the Cutteslowe roundabout in Oxford.
A bridge will also be constructed over the London Road level crossing in Bicester.
Oxfordshire County Council's David Nimmo Smith said funding for the schemes, set to be completed by March 2017, was "absolutely excellent news".
He said Oxford, Wantage, and Bicester would remain "open for business" during the works.
A scheme in Bicester is designed to alleviate the expected increase in train traffic following the introduction of Oxford-Marylebone and Oxford-Bedford services.
Meanwhile plans for Wantage centre around a road that will provide links to new housing in the north east of the town, new developments in Grove, and Science Vale UK.
Both town projects still require funding from other sources to cover costs.